BEWARE of long post. Most the details are just for my own documentation and stuff. XP You can enjoy looking at the pictures? XD Lots of food and K8 related stuff.
My last final was on August 19th in the afternoon. So after finishing the exam, ate a late lunch and then was unconscious until after 7PM since I'd had something like 2 hours of sleep the night before. My flight was at 2:45AM and I had not packed a single thing and I still needed to shower and change and eat dinner out with them. It was really rushed. My parents were pissed at me, my mom kept nagging and I was shouting at them to give me peace so I can pack.
Packing was done record time and I hadn't left a single thing that I needed behind and we went for dinner just before 9pm I think? (I even managed to move the new K8 stuff I had downloaded into my portable external to watch on the plane) :D
Went to airport around 12AM to check-in our baggage when we were informed that there was a delay in our flight until 6AM! So after check-in, we went back home and made myself stay awake so I could sleep on the plane and fix my jetlag all in one go.
Left for the airport at 4:30 since they gave us these food voucher/coupons where you can spend on food at the airport, so we weren't going to waste that. XD
We first flew to Hong Kong where we stayed for one night before going to Osaka to stay for 5 nights and then back to Hong Kong for the remaining week.
Had lunch with relatives and our Uncle said that there was some electronics convention in the area, so to make sure we won't fall asleep (got like may 15mins of sleep on the plane?), he brought us there.

This small robot that you can control its movements with iPhone, iPad, iTouch etc. Doesn't do much but can pick up these lint rollers painted silver XD
There were a lot of cheap stuff. Almost bought myself a small tablet, but decided against it in the end. I was pretty much dead on my feet, so I wasn't able to be as interested if I were actually awake. Huge crowds. 95% male. So it was tough trying to push my way through.
Korean bbq for dinner. Chicken bulgogi was delish, but I was sooooo sleepy!

Hailey(3) and Annette(1).
Aren't my two baby cousins so cute?? Annette's scared of strangers now so she wouldn't let me hold her since when I went back last, she was just around 6 months.
∞
Day 1 - Arrival in Osaka
Took the transit to the airport by ourselves since it was a morning flight and arrived with lots of time, so we had a McD's breakfast~
They have macaroni in soup for the McD breakfast in HK! And the orange juices are TINY!
Another delay! But by only 5-10mins~ Was starting to get excited now. XDD
Brought my brand, spanking new Mac Air with me on my trip. It is very nice~ *____* Will most likely invest in a custom Eito skin for it in the near future. :D Right now it's just this pencil board that my co-worker brought back for me from Japan. LOL
Flight was just 3 hours short and we were landing in no time. I'd researched before that there were no direct airport bus to our hotel, but to another one nearby. So after asking info counter, we found which station our bus is at and got the tickets and boarded the bus for a roughly one hour ride.
Got off the bus and went in search of our hotel. The bus ossan told us to go through Osaka JR Station. Osaka JR station is huge. We were lugging two huge suitcases and two backpacks and I was sweating already. LMAO! I'm sure we took a really long roundabout way, but finally made it there.
The room was actually pretty decently sized. Only one key though. And it was those old fashioned kinds and not the swipe-card kind so it reminded me of that scary movie where the hotel room was like alive or smth. Well, our room wasn't alive. But one of the walls were lime green. o.O
It was late afternoon by the time we had arrived at the hotel already. So after a short rest, we headed out to find dinner~ Have some food pictures. Speaks for itself.
Our hotel was situated in Umeda, next to the Osaka JR and Umeda Station, so I'd been hoping to hit the "Umeda Sky Building" that I had read about in the travel guide book I'd bought to do research on.
♫君の背中が 消えた梅田駅♪
It was about a 10-15minute walk + 10-15min of getting lost and we finally found it. You take this escalator tunnel thing up to the top and its really pretty. The elevator up is glass on all sides as well, so you can see the view there too.
I regretted going with my stupid brother. He was filming the night scene with his camcorder for his girlfriend the entire time and the place was infested with couples. They even had this heart locket thing where you engrave each others names and then lock it there so it'll stay locked there forever. Stupid brother was complaining about how it was awkward to be there with me. C'mon, you think this was ideal for me too? tsk
But I must say the night view was really beautiful. Photos just can't really capture it especially since the low light doesn't help my camera. There were 2 levels and you can even go to the roof top.
∞
Day 2 - Shinsaibashi & Doutonbori
Most restaurants don't open until 11am and after, so for breakfast, we found a Doutor and had a sandwich there. It's like Tim Hortons or Subway.
Today was a designated shopping day. So once we alighted off at the Shinsaibashi station, first thing was Johnny's Shop! :D
I bought A LOT of photos this time as well. Just a bit more than last time I believe. It wasn't concert season so it wasn't that packed inside either and we didn't have to go in through the back entrance like I had the first time I went there and it was during some group's concert.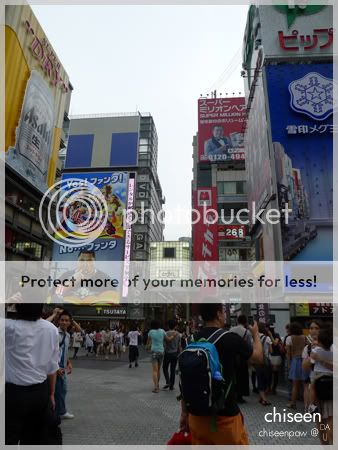 After my Johnny's shopping was done, we went back to the heart of Shinsaibashi for some shopping. The darker it got, the busier and thicker the crowds.
♫恋をするため 心斎橋には 人が来る 雅なる物語♪
Actually did manage to buy some clothes, so I was very happy. I wanted to go to Amemura as well, but we weren't able to find it. The map in the guidebook is crap and I didn't think to check an actual map online as it had said it was just next to Shinsaibashi. :/
We did walk down Doutonbori though. And yes, that is a comparison shot with Kanjani8 Bouken Map Japan. XDD We had takoyaki and one of the many stalls here. Very good!! >3<
By then, as you can see, it was starting to get quite dark and we were tired and hungry. So we went in search of food for dinner!
∞
Day 3 - Osaka-Jou, Shin Sekai & Bay Area"
Today was sightseeing day and going to some of the places that Eito went to. XD Cue start listening to "Sukiyanen Osaka" Tanaka-san vers. :D
The weather was REALLY good and EXTREMELY hot. The nearest station was the Tanimachi Yonchome and it was quite a walk until we reached the castle.
Finally reached the main entrance into the castle, so we rewarded ourselves with kakigoori and a quick rest under the shade. :D
This was my third time coming here and it's good weather every single time!


Picture from May 2010 & January 2008 Trip
After that was Shinsekai with Tsuutenkaku, Billiken-san and Kushikatsu~
Yes, I will continue with the comparison shots. :D So it took us a while to find Shinsekai even though we were RIGHT there. We took a wrong right. Asked for directions and found we were going the OPPOSITE of the way we were supposed to go. LOL!
We were getting hungry and I already had a restaurant in mind that we were going to have lunch at. Daruma. Because Yasu and Subaru went there during their location shoot for Kanjani8 MAP.
The famous Biliken-san. If you rub the soles of his foot, your wish will come true~! XD Once we were in Shinsekai, it was pretty easy to find Daruma since you just walk towards the Tsuutenkaku since the restaurant's right underneath it.
There was a line-up, so we had to wait for around 30 minutes? But it was definitely worth the wait. All the kushikatsu stores have the same rule. And that is NO DOUBLE DIPPING!! Each store will have their own dipping sauce that is just in this big box. So it is used public sauce and not your own! Once the kush has touched your plate, you can no longer dip it in the sauce!!
During the line-up, I was thinking if I'd be so lucky to sit at the counter spot that Yasu sat at. Well, unsurprisingly, I didn't. BUT I GOT SUBARU'S SEAT!!! XDD RIGHT THERE shown in the screencap above.
There were Sets that you could order where it's decided what you'll get instead of having to order one by one. But some of the sets would contain stuff like chicken heart and gizzards and stuff like that. Plus, it was all in Japanese, so there were also one or two that I wasn't completely sure I knew what it was. So we just ordered it one by one. And it was REALLY GOOD. Just thinking about it right now is making me hungry. LOL!
We had to line-up for quite a while to go to the top of Tsuutenkaku. And then we also had to line-up for a long time to take the escalator back down later. Haa~

Can you see Kyocera Dome?
They had some small galleries up and some history about Shinsekai. This year will be Tsuutenkaku's 100th anniversary apparently.
Walking back to Shinsekai area and thought, "Hey, that restaurant looks familiar!" XD
We still had a lot of time to go before dinner as we were planning to try Torafugu there, so it was the Aquarium in Bay Area.
They had this little section that was their "nursery" and all the fishies there were TEENY TINY! Made it hard to try to capture on camera.

Sign reads: HINA was born from this egg
And turtles!! My favorite~ ♥ After that, we went back to Shinsekai to the restaurant with the huge Fugu (blowfish) lantern hanging above it to eat fugu for the first time.
∞
Day 4 - Kyoto & Kobe
Instead of the usual Midosuji Line, we took the JR today to Kyoto! Once at Kyoto Station, we had to switch to bus. Was my first time taking the bus there, so was hoping that we wouldn't get off on the wrong stop or anything.
Got to Kiyomizudera safely. Got a souvenir for grandparents. When walking up the main street to the temple, there is this one idol shop nestled in between the Kyoto omiyage stores. The first time I went there, there was an obaachan who found out I liked Yamapi and showed me a bunch of his merch. One of the stuff I got and still use is a Yamapi mirror which is perfect size for make-up and stuff. So this time I picked up the Yasu one.
The same Obaachan: Yasuda-kun suki desu ka?
And then proceeded to tell me that they actually have a Yasuda-kun set which consisted of all these stuff which they sell for a cheaper price. And.. shashin wa dou? Haha~ This obaachan really knows how to do business!
The last two times I came here, we never had the time to stop and line-up for this. But this time we did. This is supposed to be the water that this temple is named after. Its supposed to bring good fortune etc etc if you drink it.
We left the temple and went back down the main street and finished the souvenir buying. Stopped at the rest area at the end before our long-ish walk back to the bus stop and I see this!
Now doesn't that look familiar?? :D This store is run by this man who is also a... part-time priest(?)
It specializes in those things called "doku manjuu" which translates to "poison bun". It's not poisonous but it's supposed to represent something like cleansing oneself of the poison (sin?) inside your symbolically. Something the owner came up with.
This other thing is the "Rainbow Stick". If you twirl it, it makes pretty shapes and stuff. For some reason, my dad really likes playing with it. XDD I bought two. The shop owner wasn't wearing his priest gear when I went. He was just in normal sweats and t-shirt. :/ LOL!
Those are mine. The inside of the store doesn't allow photos. But at the corner where they put the doku manjuu and the rainbow sticks, he'd stuck up the screencaps from the Kanjani8 MAP episode where his store was featured. XD
Hopped back onto the bus back to the station to take another bus to go to the Kinkakuji. But the moment we got off the bus, it was literally raining big, fat drops. Before we left Kiyomizudera, a kind obaasan in one of the stores we went to were telling us that we should head home soon since it would be raining hard soon. So sweet~
But it was really worth it as the scenery was gorgeous.
Went to Kobe for dinner. Just to go to Kobe. Plus it was already dark so there wasn't really anywhere we could've gone.
∞
Day 5 - Shinsaibashi, Amemura, Namba
Cue start listening to "Sukiyanen Osaka" Sankaku-kouen vers. XD
It was our last full day, so it was once again dedicated to shopping. This time I had checked the map online beforehand and was determined to find Amemura.
Still took a while to find. But there it was, the famous Sankaku Kouen. The "Aisu(Ice) Dog" is freshly made "Age-pan" (fried bread) and Ice cream made with Hokkaido milk (or something. the hokkaido part I'm not 100% certain). But it was SO GOOD. The bread was toasty hot and soft and together with the ice cream it was perfect match. So this store claims to be the "元祖(ganso)", or the original maker, of the aisu-dog, which is one of the popular foods of Amemura.
Did some shopping at Amemura as well and from there we swung by Mandarake and I bought my Sekai-ichi Hatsukoi mangas and some more K8 shop photos~ ♥
After that, we went to Namba's Don Quijote where I found my Gachapin Kigurumi (something like that but I think mine's not as well made).
♫難波の庭園 好きだったね 2人ではしゃいだ ♪
Didn't take pictures of our dinner but I remember I had Soba. haha~
And that concluded our last full day in Japan. Our flight the next day wasn't until 6pm, so we still had half a day to wander around Umeda and do our last minute purchases and remaining souvenirs. Back to Hong Kong~
∞
Back to Hong Kong
Aunt took us to some anime convention. It was just cosplayers and two levels of artists gallery though. I did spot some bjds and dollfies :D Have some crappy cell phone pictures~
And this was by far THE BEST cosplay there in my opinion.

Just ignore the red dude there. I don't know him. XD
Besides that, I mostly just hung out with my Aunt who took me to places with things to do.
Had lunch (drink tea) with my grandparents.

Babysit the kids.

Went to this thing called "Noahs Arc" and saw their real, live, two-headed turtles! There were quite a few species of two-headed turtles!! O___O

Phew! And that concludes my vacation pretty much. Now I'm back at school and work. Long post was long. Surprised that LJ hasn't eaten it up yet. -crosses fingers- but I've been saving the post
Current Mood:
listless
Current Music: Osaka Romanesque - Kanjani8